Some people know from a young age that they want to live their life performing on the stage.
But this wasn't the case for 22-year-old Andrew Polec, who has landed the lead role in the new musical Bat Out Of Hell.
Andrew had originally planned a career in sports, but an accident stopped him from pursuing that dream.
Newsbeat spoke to Andrew about how he found himself falling in love with rock 'n' roll and all things musical.
"I was a huge sports kid. I didn't have any ambitions to pursue theatre or music at all when I was a teenager," he says.
"That all kind of changed when I was going down a hill really fast on my bike.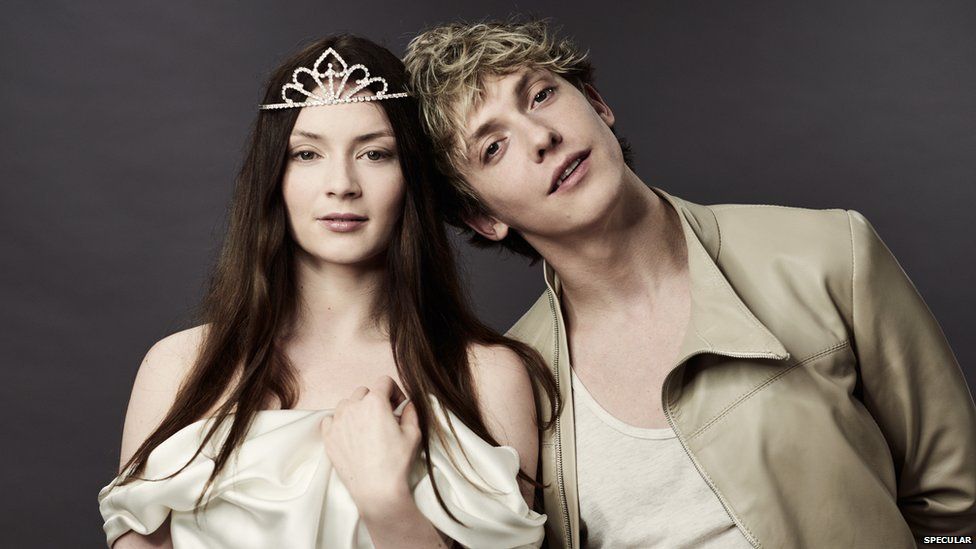 Image caption Andrew, alongside co-star Christina Bennington, who plays Raven
"I didn't see a car, and then I saw the car and I hit my brakes really hard, and only the front brake worked and I flew off my bike.
"So not unlike the song Bat Out Of Hell, I was in a terrible, terrible cycling accident.
"And when I came out of it the doctor said I'm sorry your brain's all scrambled up, you can't do contact sports for a year, and I didn't know what to do with myself."
Even after the accident left him unable to play sports, being in a musical wasn't Andrew's priority,
Instead he joined a few bands and found his way into music that way.
"I was in a lot of bands with a lot of really good obscure names, like Cat House and Fear of Escalators," says Andrew.
"But you know, they're all super strange, and had a lot of rotating members and everything because at that time, rock 'n' roll was kind of dying and everyone was going towards electronic and dance music."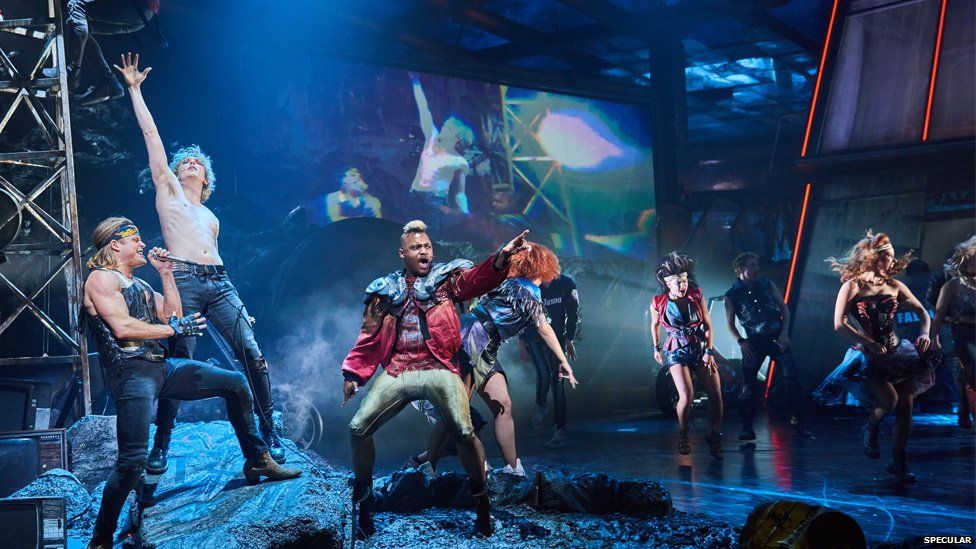 Image caption Bat Out of Hell is set in a dystopian future, with Andrew's character Strat being the leader of The Lost
Bat Out of Hell: The Musical is based on the album of the same name by Meatloaf and composer Jim Steinman, which itself was based on a musical.
Since its release in 1977, the album has sold more than 50 million copies, and spent 485 weeks in the UK chart.
The musical takes place in a dystopian future, and features a love story between rebellious Strat and Raven, who is the daughter of a very powerful man.
Andrew met Meatloaf in November of last year, the same night the legend was honoured with the Q Hero Award.
"He just kind of looked at me, and I said, 'You are such a legend, and such a hero, and I'm so happy to be meeting you,' and he said, 'Please don't call me a legend, please don't call me a star, I'm just a regular guy.'
"That made me respect him even more because he's like an every man."
Find us on Instagram at BBCNewsbeat and follow us on Snapchat, search for bbc_newsbeat