Amber Brain, better known as The Japanese House, has already toured with The 1975 but hasn't released an album yet.
"I haven't had time," she told Newsbeat at Great Escape, where she topped the bill on the Vevo stage.
The 21-year-old is headlining festival stages and sold out London's Koko recently, all off the back of four EPs.
"I'm finishing it [the album] by the end of this year. I've got a lot of it done".
Amber jokes that since releasing her debut EP, Pools To Breathe, in 2015 she's had shows booked in "every weekend until the end of time".
"It's been great and really useful in building a fanbase but it's very hard to stay well-rested and not be hungover.
"I don't know how long I've had off in the last two years. Maybe two months, which I guess isn't much.
"I've got some time off between festivals soon so I'll do a lot of writing."
Warning: Third party content, may contain ads
Pools To Breathe has been followed by three more EPs across the last two years with the latest, Saw You In A Dream, released on 30 June.
Despite saying it's "always really fun putting out new stuff" Amber explains how she hasn't felt ready to work on an album until now.
"Along the way I've wanted to release something to give guidelines of where I'm at musically.
"But if I just released an album after the first EP it would be a bit weird because the music I'm making now is quite different."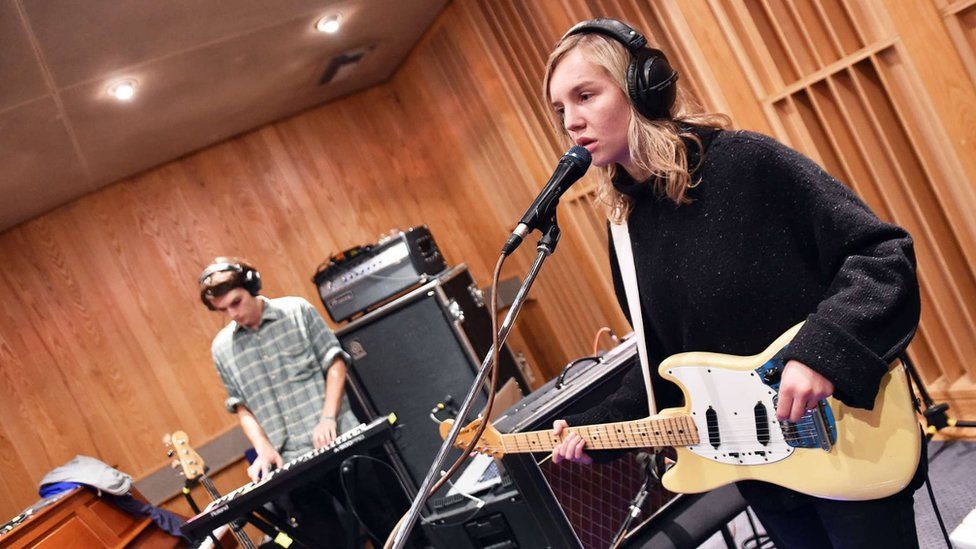 Image caption Amber says she's looking forward to not recording on the road, which has become the norm
The album will be made up of mostly new music and Amber is taking a slightly different approach to writing.
"It's much more of a big deal [than the EPs] in my brain.
"There might be one or two tracks which are already out there but only if I feel like it fits, not just for album filler.
"I think it would be unfair to just put all my EPs on one album.
"You have to think about it as if nobody has heard you before."
Find us on Instagram at BBCNewsbeat and follow us on Snapchat, search for bbc_newsbeat