Despite having two top 20 albums to her name, Lucy Rose says she "lost confidence in music" before making her new record Something's Changing.
"I questioned whether anyone wanted to hear any of my songs, I felt dissatisfied with who I was."
To help fix that, Lucy travelled to Latin America for two months to stay with fans in eight different countries.
She played 33 intimate fan-organised shows in that time, which inspired her to make "the album I wanted to make".
Warning: Third party content, may contain ads
However, her new-found enthusiasm left her with some tough decisions to make.
"Everyone was saying, 'You're completely crazy doing this.' But when I came back I knew exactly what I wanted to do.
"I was still with Columbia Records at the time. Bluntly I said, 'I think I'm going to make the best record I've ever made but it's not going to be made for radio or to make hits.'
"That was the point when they said, 'We can't do that, that's not what we do.'
"They were really kind and knew that was the route I needed to pursue and they let me go.
"I walked away from a record label, from a manager and from booking agents.
"Suddenly I was managing myself with no label and was completely alone. Almost everything I had worked towards was gone. But I knew it was the right decision."
So far, the gamble has paid off.
The first single taken from Something's Changing, Floral Dresses featuring The Staves, consists of four female vocalists and a guitar all recorded in one take.
Despite it being a formula for what Lucy calls "the sort of music that won't get played on radio for years" it was picked up by Radio 1, Radio 2 and 6 Music.
"It was the most euphoric moment," she says.
"I just hope that for any artist out there who thinks nobody wants the sort of music they're making knows that it is an option.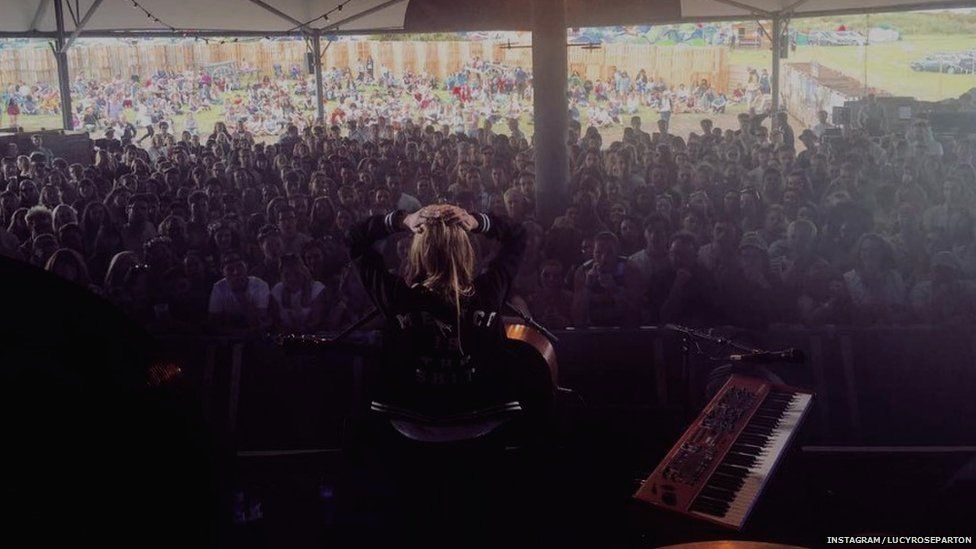 Image caption Lucy performed some of her new music at this year's Glastonbury Festival
"Everyone's got that little person in their brain putting fear into your head and making you doubt yourself – I'm just learning to ignore it.
"All I can do is make what I believe is the best art that I can make and do it for all the right reasons.
"The consequences of that will be easy to swallow because it feels sincere and I can live with that.
"I feel like for my fans, this will be the record that they've always wanted from me."
Find us on Instagram at BBCNewsbeat and follow us on Snapchat, search for bbc_newsbeat