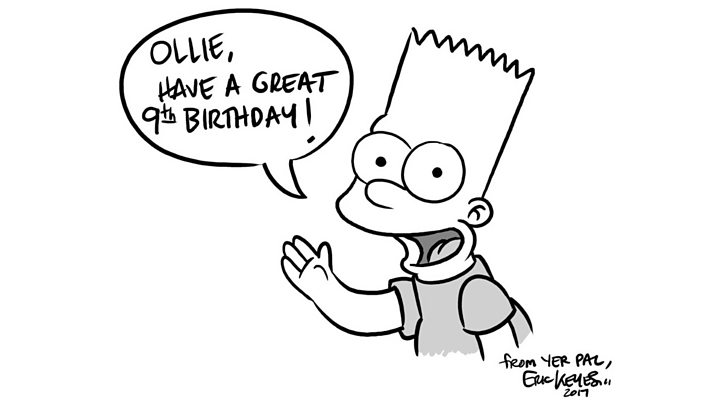 A host of celebrities, including British grime and hip hop artist Stormzy, have sent birthday greetings to a young boy who is being bullied.
Chris Hope-Smith, from Leeds, posted on Twitter asking if people could send positive messages to his son, Ollie.
He wrote: "The bully keeps saying to him that everything O has, he has bigger/better/more often.
"I would love someone to tell him he does mean something and bullying is not ok, ever."
Ollie will celebrate his ninth birthday on 5 July.
More on this story and others from Yorkshire
Responding to the appeal, Stormzy wrote: "Happy birthday Ollie! You're a lil legend. ❤️⭐️🎉Don't watch the bullies they always end up being the biggest wastemen later in life."
Others included TV presenter Jake Humphrey, who recorded a video where he told Ollie to "ignore the haters", adding "we've all been there".
Simpsons character designer Eric Keyes sent a message to Ollie along with a personalised drawing of Bart Simpson.
Mr Keyes tweeted: "Happy Birthday Ollie from a guy on @TheSimpsons who's not quite famous but draws a kid who is =) I hope you have an AWESOME day!"
Other famous names who sent well-wishes to the schoolboy included:
Many people offered to send Ollie gifts or free tickets for events.
Broadcaster Sara Cox also posted a video message to him.
Writing on her husband's twitter account, Ollie's mother Natalie Hope-Smith said: "I am completely overwhelmed by everyone's kind thoughts.
"You do not know what this means to me and will to Ollie when we show him. I have been battling with this matter for over a year and am only just now being listened to.
"It is heartbreaking listening to an 8 year old think that he is worthless and 'shouldn't be here'.
"I know that we are definitely not the only ones going through this but I just want to say, from the bottom of my heart, 'Thank You' so much. You really don't know what this means. Natalie xx"
---
You might also like:
---
As well as celebrities, the appeal also attracted a lot of interest from the general public, who all offered messages of support.
Responding to the posts, Mr Hope-Smith said: "I am completely overwhelmed by everyone's kind thoughts.
"You do not know what this means to me and will to Ollie when we show him."