Taylor Swift has called Ed Sheeran a "tank" in a tribute for Time's 100 Most Influential People list.
The US pop singer wrote a piece to explain his cultural significance.
"Whether by choice or an unconscious evolution, when he decided on his musical ambitions, Ed became less of a boy and more of a tank," she wrote.
"He is protected by an impenetrable and ever-present armour of enthusiasm that has helped him endure any setback, letdown or underestimation."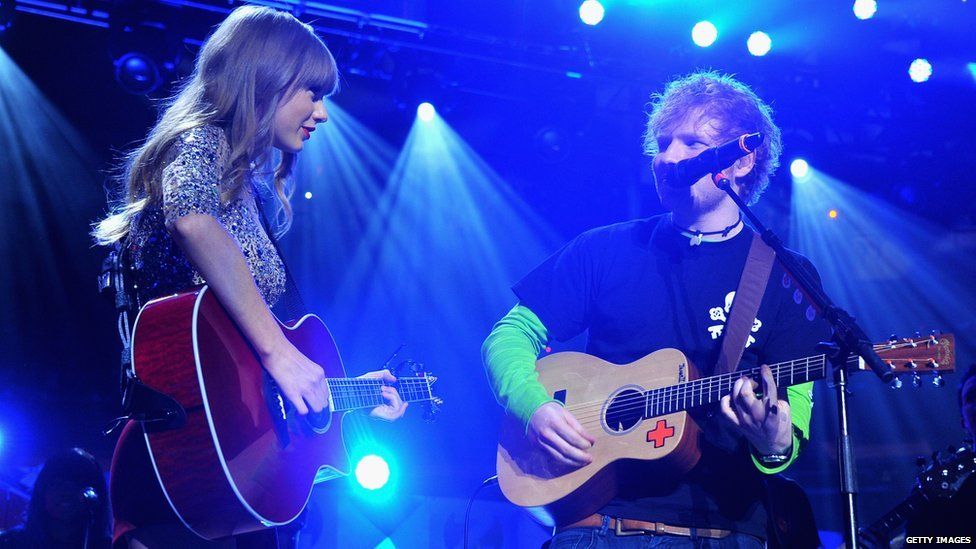 She added: "His reaction to any idea that fails is to almost immediately come up with a new one. He's like a fighter who pops back up on his feet before you even noticed he'd been knocked down."
Taylor Swift has known Ed Sheeran since 2013, when they were first introduced by their respective managers.
They then went on tour with each other and have been best mates ever since.
Starting her tribute, Taylor Swift says that Ed Sheeran started out at the bottom, but has made it to the top.
"As a young, precocious redheaded boy growing up in Framlingham, Suffolk, Ed Sheeran decided he wanted to be a musician," she wrote.
"He started writing songs and playing instruments like so many hopefuls do, but something very different happened that would set in motion one of the most impressive self-made careers in music."
Taylor Swift says she knew Ed Sheeran would be a star, even if he didn't himself.
"A few years ago, in a rare moment of admitting feeling defeated, Ed said to me, 'I'm never going to win a Grammy.'
"'Yes, you are,' I said. 'You're going to sweep the whole thing one of these years.' It was a few weeks later when he met me in a dance-shoe store in London, where I was picking out rehearsal outfits, and said, 'You have to hear this.'
"It was a song he'd just finished called Thinking Out Loud, which went on to win song of the year at the Grammy Awards in 2016.
"Congratulations to my friend Ed, for the legacy you've already built and the brilliant hook you probably just came up with five minutes ago."
Meanwhile James Corden had his tribute written by Elton John.
Other names featuring on the artists list included actors Emma Stone, Margot Robbie, and Ryan Reynolds whose Deadpool performance was praised by Dame Helen Mirren, and musicians Alicia Keys, John Legend and Demi Lovato.
Find us on Instagram at BBCNewsbeat and follow us on Snapchat, search for bbc_newsbeat