Lucie Jones, who's representing the UK at Eurovision, says she's not worrying about any potential Brexit backlash at this year's contest.
She's performing her song Never Give Up On You in Ukraine on Saturday.
It's the first competition since the UK voted to leave the European Union.
"If I go and worry about that stuff, there's no way I can do the best performance I can possibly do so I'm just trying to concentrate," she tells Newsbeat.
If the UK doesn't fare too well in Kiev, the Brexit excuse will be an easy one for people to use.
But in reality, 42 countries are eligible to vote and loads of them (16 to be precise) are not even in the European Union.
"People vote for you if they like you, or they don't if they don't," says Lucie. "It's a good atmosphere."
The former X Factor star was chosen to sing for the UK at a publicly voted show in January.
Warning: May contain third party adverts.
The song is a huge ballad and it has been getting traction among Eurovision fans and bookies – not that's she's paying attention to that.
"The bookies said I was favourite to win The X Factor," she smiles.
"I got kicked out to Jedward.
"You have your thing, you rehearse it.
"It's not something like The X Factor or The Voice where you're on week by week trying to out-personality each other."
Outside of the competition, Lucie has a successful career as a musical theatre actor and will play the role of Elle in Legally Blonde later this year.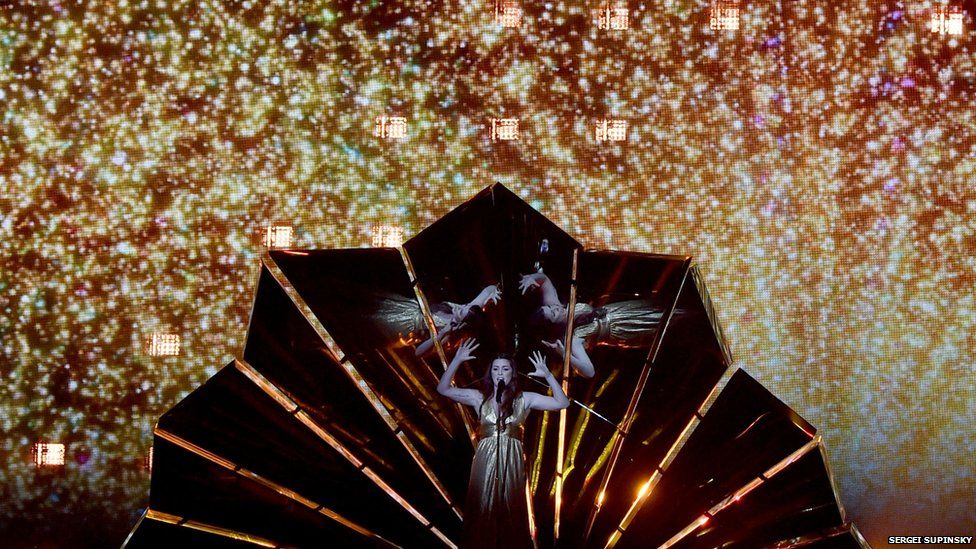 Image caption Lucie is performing inside a giant mirrored shell in front of a CGI display of stars
Her Eurovision song is co-written by Emmelie De Forest, who performed 2013's winning track, Only Teardrops, for Denmark.
Co-incidentally, Lucie will perform in 18th position during Saturday's final, the same slot in which Emmelie won.
Other countries tipped to do well this year include Italy, Portugal and Bulgaria.
Warning: May contain third party adverts.
Lucie does have the support of one man in particular – Eurovision commentator Graham Norton.
"He's so lovely and so supportive. He's a powerhouse in Eurovision. He's the God of Eurovision and people actually call him that," she says.
"I'm lucky to have his support."
Lucie recently sang her entry on his BBC chat show, when Orlando Bloom and Amy Schumer were on the sofa.
"I was a little bit terrified at the prospect but it was so cool and everyone was so nice," says Lucie.
"I sat at the end of the couch next to Star Wars' John Boyega. I was shaking and he said to me, 'Breathe, you did a good job'."
The Eurovision Song Contest is shown on BBC1 at 8pm on Saturday 13 May.
Find us on Instagram at BBCNewsbeat and follow us on Snapchat, search for bbc_newsbeat