Justin Bieber's first ever concert in India was one of the most-hyped of the year – and not just for Beliebers.
But many of the 56,000 people who crammed into Mumbai's DY Patil Stadium for the Purpose tour were seriously disappointed.
The Canadian popstar didn't even try to hide his lip synching, even wiping his mouth with a towel mid-song.
His casual shorts and T-shirt also went down badly among some, who had expected him to make more of an effort.
Fans spent between Rs 5,000 (£60) to Rs 75,000 (£906) on tickets and were seriously excited about seeing the 23-year-old live for the first time.
Despite being home to 1.3 billion people, India isn't on most global megastars' list of countries to tour, so even the most lukewarm fans were pretty excited.
But that soon turned to dismay.
One fan had travelled all the way from a different state, and was not impressed.
Ashish Shakya, one of India's leading comedians with 871,000 followers on Twitter, thought the whole thing was pretty funny.
In a long Facebook post, he wrote that his favourite part of the show was "when Bieber was wiping his face with a towel such that the towel covered his entire face, and the vocals just played on unchanged.
"That was when I laughed out loud and couldn't stop."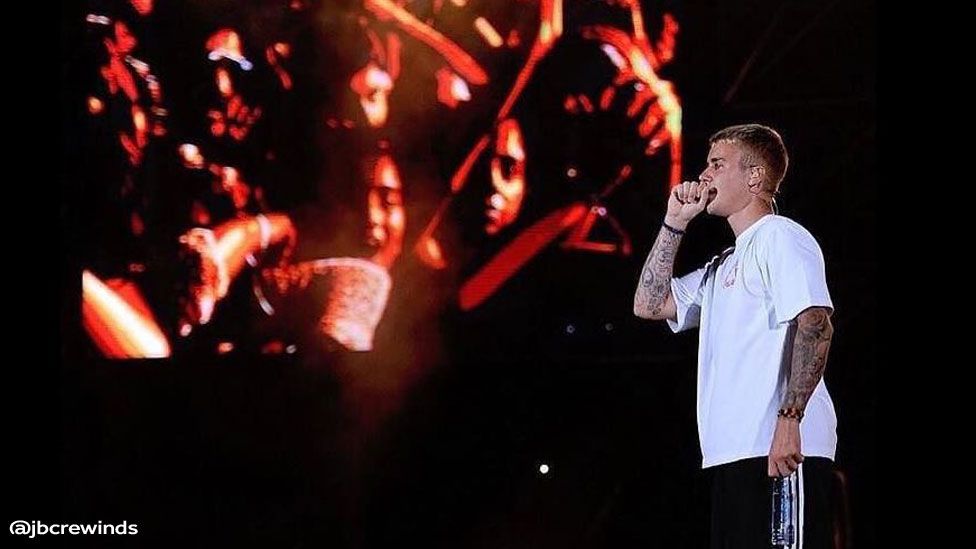 Indian fans also expected more in the costume department.
Even people who weren't actually there were quick to make fun of Bieber – and the fans who had paid to see him
But it wasn't just social media.
Rolling Stone India said: "He performed the entire 90-minute set with the kind of enthusiasm you would expect from a robot, save for a couple of moments where he did seem to come alive and throw a magnanimous hello at the audience."
To be fair to Bieber, lip synching regularly forms part of his set.
And not everyone was disappointed.
Find us on Instagram at BBCNewsbeat and follow us on Snapchat, search for bbc_newsbeat