Slaves say they're amazed to have headlined The Great Escape after years of trying.
The Brighton festival has sold out, with the duo performing in Thursday night's top slot.
"It feels surreal," says frontman Isaac Holman. "I was out watching a friend's band the other night, and I saw a billboard for Great Escape and it feels crazy to see our name right at the top.
"I don't think that will ever stop feeling weird."
Image caption Slaves were nominated for the 2015 Mercury Prize
The Kent duo have come a long way since forming in 2012.
"There's a poignancy to this because it was one of the first ones that felt accessible as a new band, they promote new music," explains guitarist Laurie Vincent.
"We could never get booked for it the first couple of years, and it was very frustrating seeing all of our mates doing it and really wanting to do it but not knowing how, and now we're headlining it.
"I'm signed up on my email account for the Great Escape newsletter, and I remember five years ago when I got the line-up and now I'm at the top of it.
"It's this real sort of sense of achievement."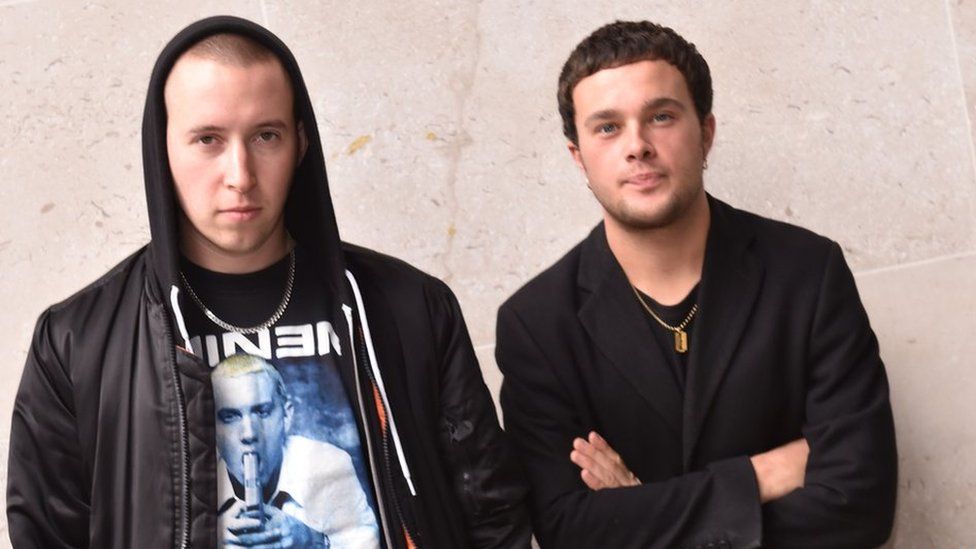 The band posted a statement to Twitter on Thursday night after the gig was brought to an early close.
A spokesperson for The Great Escape said they had ended the set five minutes early "due to the weather and health and safety", as it had been raining heavily.
The band's first album, Are You Satisfied? was nominated for the 2015 Mercury Prize, and last year's follow-up, Take Control, debuted at number six on the Official Album Chart.
They'd advise any bands wanting to follow their success to "work hard and be nice to everyone".
Laurie says The Great Escape offers opportunities for up-and-coming artists.
"The line-up's still really fresh and new. It's not like they're just putting on old bands.
"The same way everyone wanted to play Glastonbury and Reading and Leeds, this is now a landmark UK festival.
"I remember seeing White Lung, and they were one of my favourite bands at the time, and I was just blown away that I was on a bill with them and watching them."
They say they're getting their families involved as performers too.
"Isaac's dad is DJ'ing the dodgems," says Laurie.
"This is a family affair for us," says Isaac. "My brother's DJ'ing as well.
"Yesterday, we had DJs on the dodgems and we were playing on the horror house ride."
Laurie adds: "We came down as punters last year and it was really fun. We always just enjoy being here."
Find us on Instagram at BBCNewsbeat and follow us on Snapchat, search for bbc_newsbeat