When the bomb went off at Manchester Arena, Sharon Hartley was outside in the car, waiting for her 14-year-old daughter, Ella, and her friends.
Then Ella called, saying there had been an attack.
"It's the worst phone call you ever take, isn't it?" Sharon tells Newsbeat.
"I could hear the terror. I could hear the sheer terror in her voice and I knew it was serious. As she was talking to me, saying, 'Mum, where are you,' I started to look around.
"I knew something was wrong because there were parents running towards the arena on their phones and there were children and teenagers running away from the arena crying."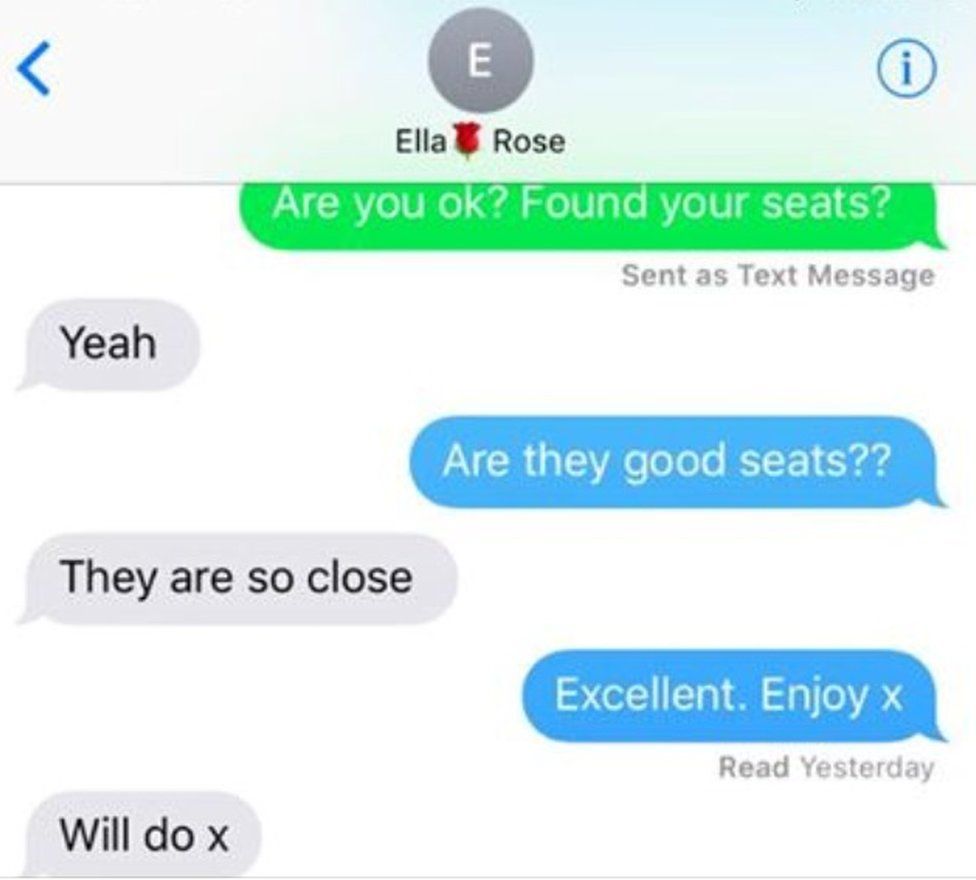 Image caption Before the gig started, Ella and her mum, Sharon, were texting each other about the seats at the Ariana Grande concert
Sharon says for Ella and her friends, who are all 14, the concert was a "really big deal" because it was the first time they'd been allowed to go to the arena without adults.
"Our parting words to Ella were, 'Go and have fun, stay together and stay safe. But whatever you do, just stay together at all times because it's so busy.'
"We just said, if you get lost or anything, stay as a four and you'll all be fine."
Following the attack, it took five minutes for Sharon and her daughter to reunite and they were talking on the phone the whole time.
"I've looked back at the call log this morning, it took five minutes for her to find us, which felt like three hours.
"Just fortunate for us, we were able to get in the car and drive home.
"I actually feel quite bad that we drove away," Sharon says, her voice cracking.
"Because there were children there that needed help and we weren't able to offer any."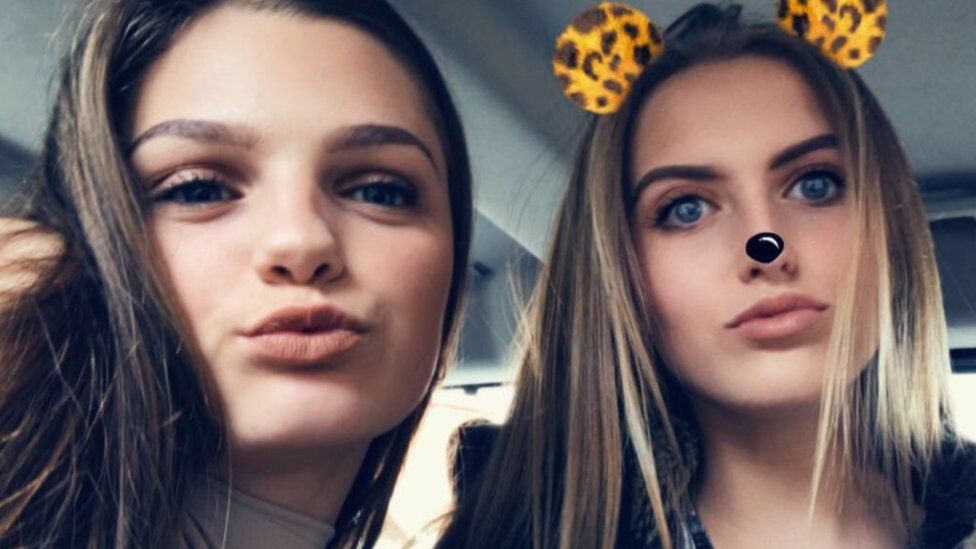 Image caption Ella (right) and her friend Charlotte were taking selfies as they made their way to the Ariana Grande concert
It's been less than 12 hours since the attack when Sharon speaks to Newsbeat and she's still struggling to understand what's happened.
"I don't know how I feel. I don't know. I can't describe it. I'm speechless. I'm a bit numb to be honest," she says.
"You're hearing of children being holed up in hotels and people taking them in and giving them a safe place and taxis taking them places which is fantastic. It's people helping.
I could hear the sheer terror in her voice
"That's what they say isn't it – in a bad situation just look for the helpers because that makes you feel good.
"Yet somebody has gone out there wearing bombs to kill children at a gig they were meant to be enjoying on a school night and you can't compute it as a parent and I'm lost for words."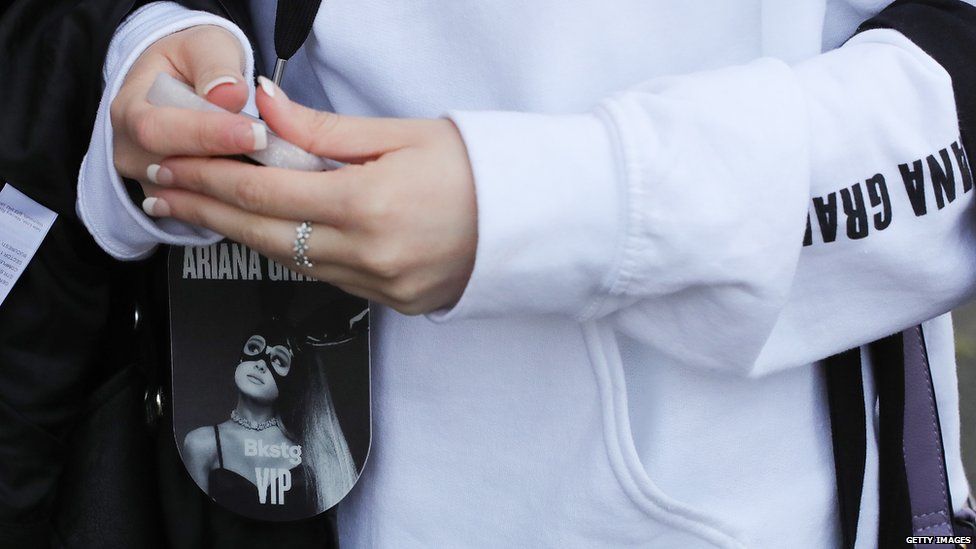 When they got home last night, they stayed together as a family.
"Ella actually wanted to rent The Sound of Music, we turned the news off and she wanted to watch a musical until the early hours," says Sharon.
"She's still asleep now and she's not put the news on and I'm dreading the moment she gets up.
"I'm glad she's upstairs in bed asleep. I've never felt such relief.
"But I think today is going to be really difficult. I think the coming days are going to be horrendous when she realises the enormity of what she's been involved in."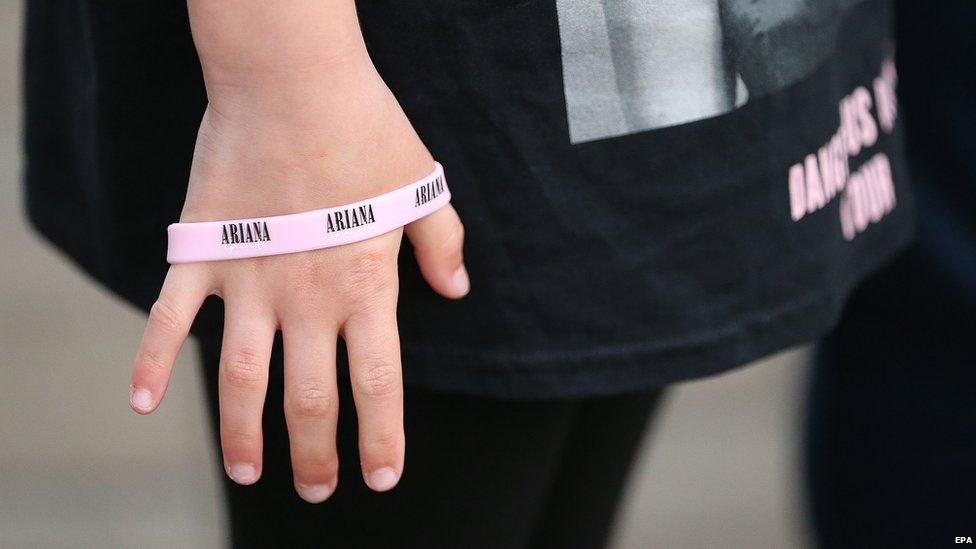 Sharon says she hopes they can deal with what they've been through together as a family.
"Ella doesn't like watching scary films, she's quiet and she's soft," she says.
"I don't know what happened last night, I don't know what kicked in but whatever happened she was able to keep a level head, keep hold of her friends, they all stayed together and they just ran and ran and ran and just got away from there.
"But not everybody was as fortunate."
Find us on Instagram at BBCNewsbeat and follow us on Snapchat, search for bbc_newsbeat