Haim have travelled so much as a band they haven't had time to move out of their parents' home in Los Angeles.
The three sisters have just played Radio 1's Big Weekend and are about to put out their second album, Something to Tell You.
"We have adrenalin!" they scream at Newsbeat. "There is no other feeling like playing to a UK crowd.
"It's so much fun, it's so nice to be back. We love it here so much. It was just such an awesome gig."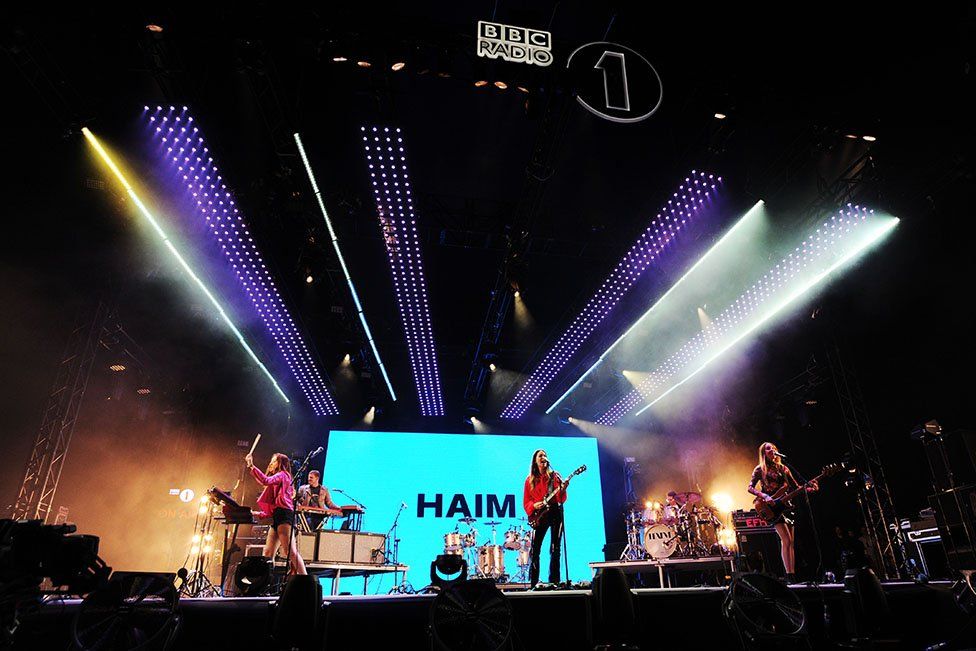 Image caption "I'm stuttering because I left everything I have on that stage," jokes Alana as she chats to Newsbeat
After getting the crowd to hum the theme tune to Jurassic Park as the came on stage, the trio stormed through their classic tunes, including Forever, from 2013 debut album Days Are Gone.
New album could have been 150 tracks long…
They will be back in the UK to tour the new album later this year. It's been three years in the making.
"When it's out it's out," says bassist Este. "I like the feeling of having a little secret, it's a really good one too, a really good secret. Just you wait."
"There are 11 tracks coming. It's coming out on seven, seven, seventeen (7 July 2017)," explains Alana, who plays keyboards and guitar.
Warning: Third party contain, may contain ads
"We don't like the other 150 songs we wrote for this record," says Alana. "We all really loved the 11 songs that we have."
So what happens to the other 139?
"The other ones are locked in a box in a secret location. The key has been swallowed, the extras don't exist," says Este.
"All the blood, all the sweat, all the tears, since the creation of the universe…" went into the making of this album, she adds.
Haim's top tips for living in harmony with your parents
Haim have been performing since they were kids.
Their first band, with their parents, was called Rockinhaim and they still play music with their mum and dad when they're at home in LA.
In fact, the success of Days Are Gone and the relentless touring that followed meant the trio were just too busy to move out.
One in four Brits in their 20s and early 30s still live with their parents.
So we asked Haim for their top tips on living with mum or dad.
"Wake up as early as possible and leave the house, so you don't have to deal with them in the morning," advises Alana.
"Still say please and thank you, always," adds Este.
And the true key to inter-generational harmony?
"Do the dishes.
"Always do the dishes," urges Este.
"No dishes in the sink," confirms Alana.
So now you know.
Watch full sets, highlights and see exclusive photos here.

Find us on Instagram at BBCNewsbeat and follow us on Snapchat, search for bbc_newsbeat