Royal Blood say having headline slots at festivals is "surreal".
Speaking to Newsbeat after closing the Where It Begins stage at Radio 1's Big Weekend in Hull, the duo reflected on their rise since starting in 2013.
"When we began, we spent £500 on making half a record," explained singer Mike Kerr. "We had dinner one night and we thought, 'Do we get the £500 back?'.
"So to be up there now, headlining a stage, surreal doesn't really cut it."
Their set in Hull came three years after the played on the BBC Introducing stage when the festival was in Glasgow in 2014.
Later this month, they'll play on the pyramid stage at Glastonbury with The XX and Radiohead the only bands to appear higher up the bill.
"It's always ridiculous," continued Mike.
"Every time I look over at Ben [Thatcher] on the drums, doing a solo in a Tilikum t-shirt [the killer whale featured in the BlackFish documentary] while I'm drinking out of a bottle of Jack Daniels, you have to ask yourself, 'Who am I?'"
"And 'Who are we?' and 'How did we get so dark?'" grinned Ben with a nod to the title of their upcoming second album, How Did We Get So Dark?
The drummer added: "Our live thing for us is something we thrive on, we make our records because we love to play the songs live."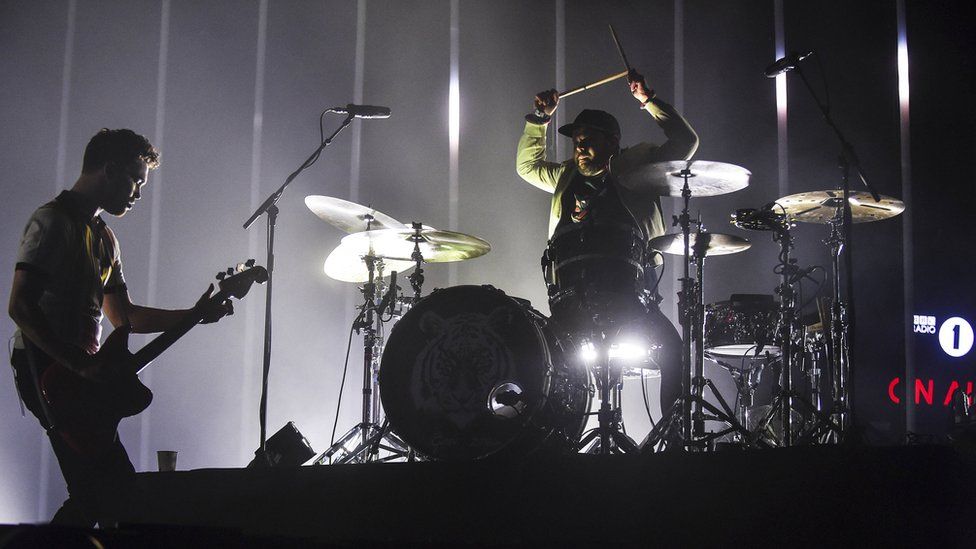 Despite only releasing two tracks form the album so far, fans were singing along to the latest songs with just as much passion as older ones.
But Mike made it clear their not getting carried away with their potential headliner status.
"We just want to walk on and we just want to make sure people have a good time, no matter what stage we're thrown onto.
"But it's definitely a privilege to be put in that position and given that responsibility."
"It's always a strange feeling releasing it [new music] into the world.
"I think we're ready to throw it out there and think about what we're going to do next."
Find us on Instagram at BBCNewsbeat and follow us on Snapchat, search for bbc_newsbeat