"I wouldn't say it was scary. It was thrilling and exciting."
In March 2016, Barcelona artist Carlota Guerrero got an email out of the blue.
It was from Solange's manager, asking her to be the photographer and art director for the musician's album, A Seat At The Table.
Fourteen months, a US road trip and the album cover for one of last year's most critically-acclaimed albums later, Carlota tells Newsbeat about the experience.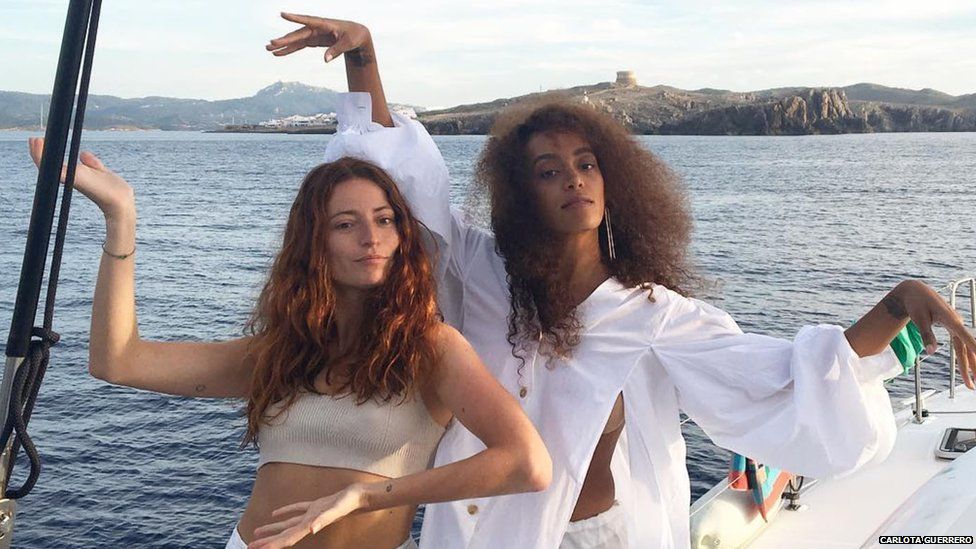 Image caption Carlota spoke to Newsbeat at Primavera Pro ahead of Solange's set at the festival
Growing up as a big Destiny's Child fan, initially being asked to work with a member of the Knowles family was a surreal offer for Carlota – but she didn't give herself time to question it.
"We're almost the same age, we're interested in the same stuff," she said, explaining how at first she discussed ideas on A Seat At The Table with Solange on Skype while they were both in pyjamas.
"Even though she's Solange, she's very human and everything is super easy to talk about with her. I jumped on a plane to America and we started.
"I did feel a lot of respect for her and I was aware of her, but I wasn't scared – I was happy.
"We spent a lot of time together – and time with her family – we have a good relationship."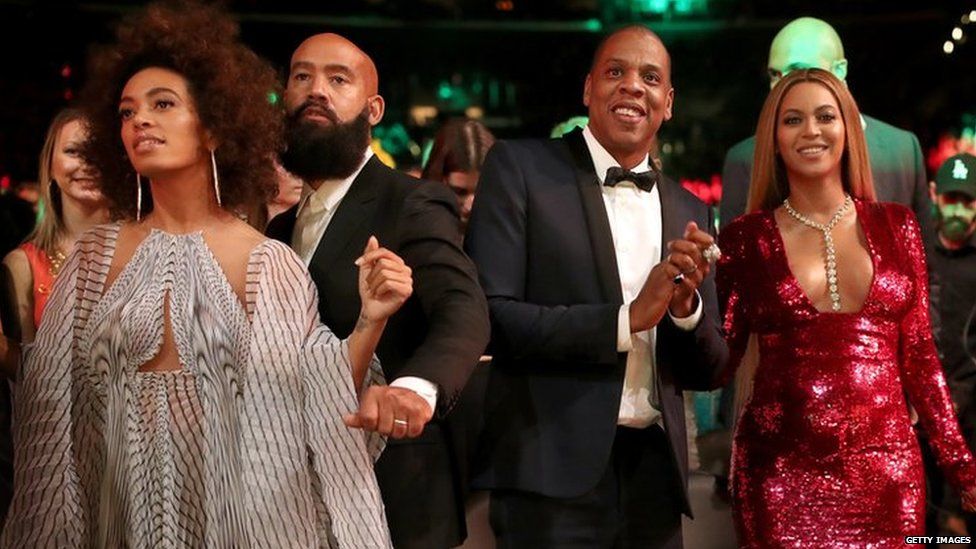 Image caption Solange, her husband Alan Ferguson, Jay Z and Beyonce
When that family includes Beyonce as your elder sister, it can be hard to stand out.
But Carlota said Solange is focussed on creating her own identity as an artist.
Solange has described A Seat at the Table as "an invitation to allow folks to pull up a chair, get very close and have these hard uncomfortable truths be shared".
Her intention was to make a very personal album, which examines racism in the US.
It's a culture Carlota couldn't relate to until she was immersed in it.
"We spent almost two months travelling across the United States from New Orleans to New Mexico, we were filming almost every day," she said.
"It was a big journey. More than her trying to explain the culture to me, it was more for me to see how they [Solange and her family and friends] live and talk about their experiences. It was a shock."
Warning: Third party content, may contain ads
Carlota explained how they were working so intensely that she "didn't think about anything else" during the road trip.
"I just forgot about everything," she laughed.
Along the way, she asked Sampha to dance in a duvet she'd been using on the trip for the video for Don't Touch My Hair.
She also enlisted the help of Solange's mother, Tina Knowles, to make an outfit in just two days for Cranes In The Sky.
"I was so concentrated on the work. We were working on the ideas together every day.
"Then I came back to Spain and I realised what we had done."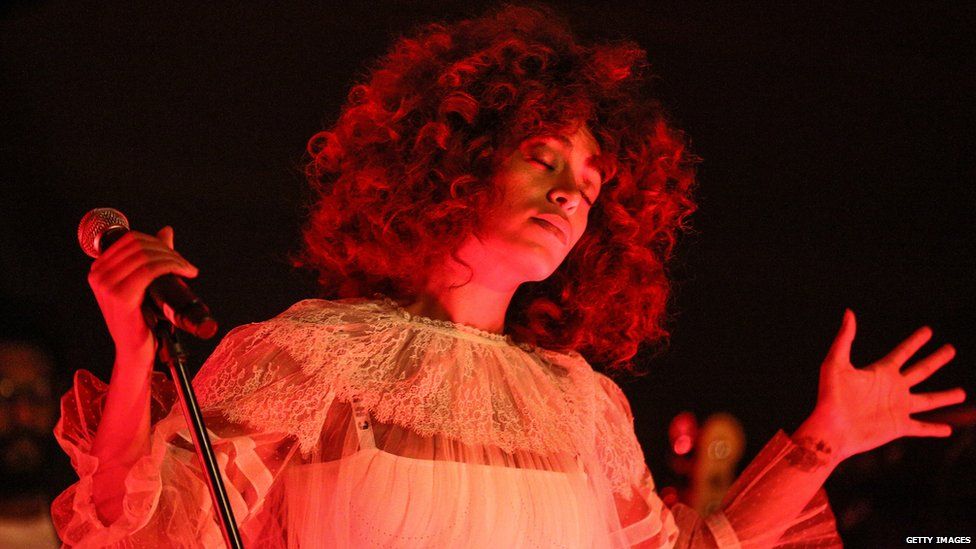 There was huge anticipation for the album, which several major critics put among the best albums of 2016.
Solange is now set to perform at festivals all over the world including Primavera and Glastonbury.
But it wasn't until the videos and the album artwork were released that Carlota thought about the size of project she had worked on.
"I know she's famous but people came up to me in the street here [in Barcelona] to tell me how they feel about the album and the images."
"I just saw her two days ago [29 May] and it was a year since we finished it all.
"I was like, 'What did we do? Did you know what we were doing?'
"She knew [how popular it was going to be] but I didn't, I wasn't aware of it at all.
"We'll be doing more things together. I'm very grateful that she trusted me.
"She didn't even know me and she trusted me to do such an important piece of work."
Find us on Instagram at BBCNewsbeat and follow us on Snapchat, search for bbc_newsbeat