Harry Styles has announced on Twitter that US band Muna will support him on tour later this year.
The LA three-piece will join Harry at his live shows in North America and across Europe.
Muna have been tipped for big things and joining Harry on tour is an important moment for the band.
He sold 180,000 tickets for his first solo tour in seconds when they went on sale in May.
And as one of the hottest young pop stars in the world, Harry could have taken his pick of any act on the scene.
So why choose a relatively unknown band – and who are Muna?
Muna are Katie, Josette and Naomi
Warning: Third party content, may contain ads
Katie Gavin, Josette Maskin and Naomi McPherson formed Muna in 2013 while studying at the University Of Southern California.
They released their debut album, About U, in 2017.
They make electronic pop music and keep gender-based pronouns out of all their songs.
They are strong supporters of the LGBTQ+ community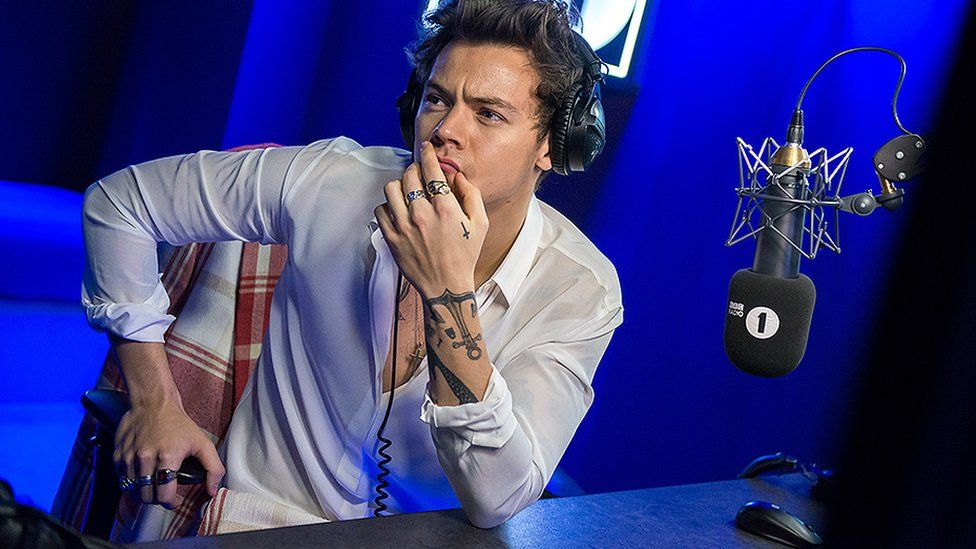 Image caption Harry and Muna have both spoken of their support for the LGBTQ+ community
Harry Styles is a supporter of the LGBTQ+ community and says he feels no pressure to label his own sexuality.
Harry told French TV show Quotidian he believes gay rights shouldn't be considered a political issue, saying "equality feels much more fundamental".
Muna all identify as queer and when they tour they request every venue make their toilets gender neutral to put the wellbeing of their fans first.
"If we're contributing to people feeling less alone that's just very cool," Josette told Newsbeat when they visited London in March.
"We try to be as peaceful and as calm as possible. We're happy it works out."
Muna are fiercely Anti-Trump (and not afraid to show it)
Muna's 2016 single I Know A Place, already a song with a strong political message of inclusion, was partly re-written following Donald Trump's election as US president.
"It was out of the question for us to not try to do something," Naomi told Newsbeat.
When Harry was asked by The New York Times whether his debut solo single, Sign Of The Times, was about Brexit, Donald Trump and the Black Lives Matter movement, he replied saying it was.
"Everything you were talking about, just the state of the world at the moment," he told the newspaper.
"It's a time when it's very easy to feel incredibly sad about a lot of things.
"It's also nice sometimes to remember that while there's a lot of bad stuff, there's also a lot of amazing people doing amazing things in the world."
And they are already seeing the impact of the Harry Styles effect
Muna have seen a huge increase in Twitter followers since Harry's announcement.
"Oh hi there, world. Nice to meet you," they tweeted – four years after they formed and joined the site.
Harry will perform four UK dates with Muna in October and November in London, Manchester and Glasgow.
Find us on Instagram at BBCNewsbeat and follow us on Snapchat, search for bbc_newsbeat