"I was sound-checking thinking, 'This is fun, I'm back in gig land'," Nick Mulvey told Newsbeat before a set at this year's Bushstock festival.
The show was his first chance to play new music since touring 2014's debut album First Minds.
Since then, he's swapped London for Wiltshire, become a dad and come back to "gig land" with a follow-up album.
"We've made a record I'm so proud of… there's always pressure writing an album."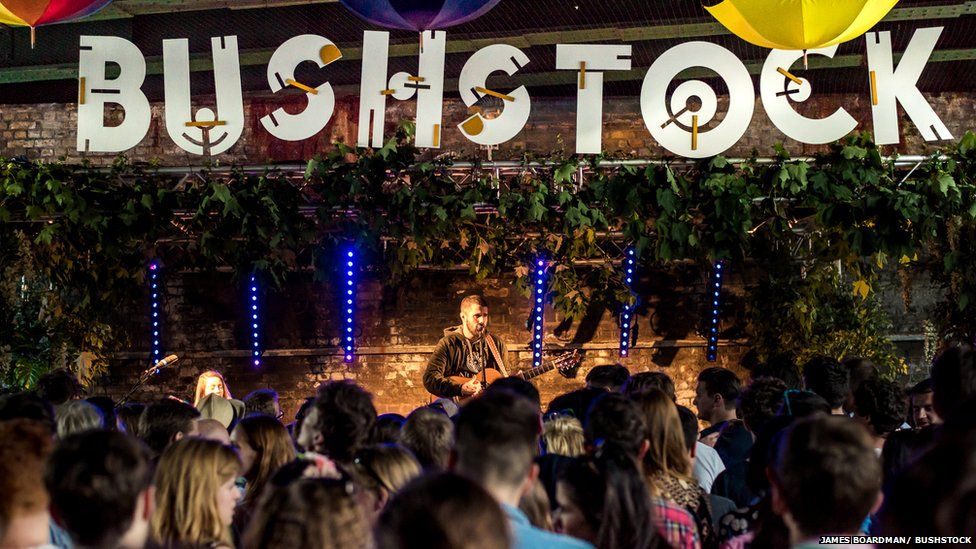 Image caption Nick Mulvey showcased new music at Bushstock in Shepherd's Bush in London
As well as aiming to replicate the success of his Mercury Prize nominated, UK top 10, debut album Nick added becoming a father to the mix during the making of album two.
"It kind of changes everything, having a kid," he said.
"A certain amount of it was a new-found confidence because there's somebody else to do it for and that's really inspiring.
"There's nappy changes and bouncing the baby between takes in the studio. But it's been really good for me, because it made me not obsess about the music.
"Putting music as a secondary priority to that was a really healthy thing for me.
"It's just a challenge making new music in general."
Warning: Third party content, may contain adverts
The only track to be released from the new album for far, Unconditional, was MistaJam's hottest record on Radio 1 last month.
Nick's mum and a handful of friends are the only people to hear the album in full.
"They're brutally honest, it's painful," he laughed.
"But everybody I play it to seems to love the new record so that's good.
"It's [Unconditional] the song that links most to the past so it seemed like a good place to start this time, but there are definitely surprises in store."
Another change Nick made was moving from London to the West Country to record the new album.
"We're not too far from Glastonbury, just over the border in Wiltshire," he said.
"I was always just going there more and more to get a little escape from London – then it felt right to do the move.
"I've got lots of musician friends there and it was natural for me to develop the material with them.
"They're all proper musicians, it wasn't just people just coming in and playing the shaky egg.
"A producer I was working with really encouraged me to populate my band with my community – it was the best decision I made."
Find us on Instagram at BBCNewsbeat and follow us on Snapchat, search for bbc_newsbeat