Of Mice And Men have thanked fans for their continued support, after their founding frontman quit due to health issues.
Austin Carlile was forced to leave at the end of 2016 because of his ongoing battle with incurable tissue disorder Marfan syndrome.
It meant bassist Aaron Pauley stepped forward to take lead vocals.
"Your life can change in an instant," the singer told Newsbeat at Download festival.
"I don't really think of myself as a frontman," he said. "We all deliver different things to the music in the band. For us it's been a collaborative effort."
Warning: Third party content, may contain adverts
Austin Carlile announced his departure in December 2016, seven years after the band formed.
Since their formation in 2009, the California band have risen to become one of the mainstay fixtures on the metal and hard rock scene, touring with the likes of Metallica, Slipknot and Linkin Park.
In an Instagram post Carlile wrote: "My team advised me that if I continued to (perform and scream), it would cause 'permanent and irrevocable damage to my spinal cord and nervous system.
"I'm so thankful my spinal injuries weren't worse for I could have easily been paralysed permanently."
Marfan syndrome is a genetic disorder which affects the body's connective tissue, which holds all the body's cells, organs and tissues together.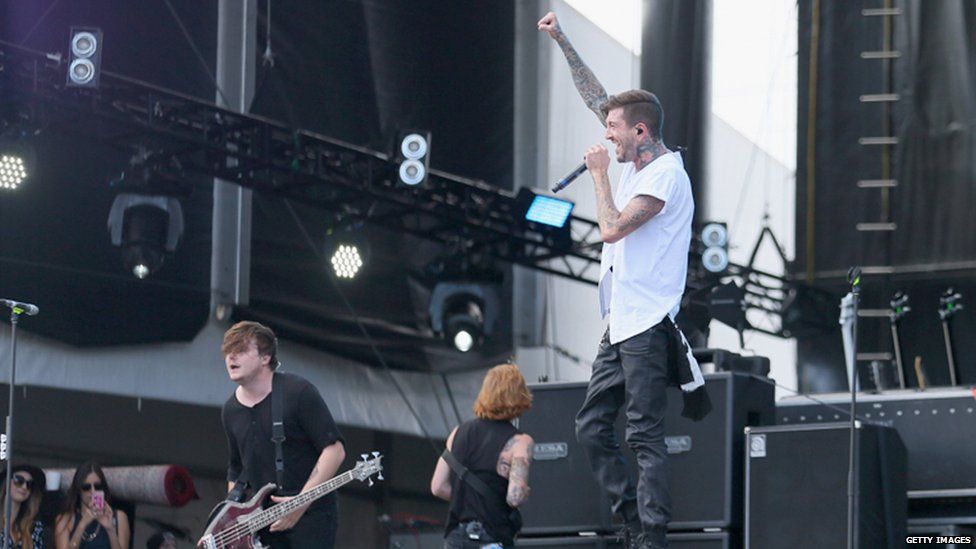 Image caption Aaron Pauley (l) took over from founding frontman Austin Carlile earlier this year
"Six months ago, we didn't even know if this band was going to continue," said drummer Valentino Arteaga.
"Life is full of curveballs. We are not a Wikipedia page. This is our life. It's what we've always needed to do, making honest music and putting it out there and playing for festivals."
Since Austin's departure, the band have recorded new music together and are preparing to tour, as well as making festival appearances.
This year's Download festival was their first.
"You just caught us right after our signing tent," said Valentino. "We just met our fans that have been seeing us for years and years. For us to be back in their presence and back with this music community – it means so much. We've seen so many tattoos of our lyrics today.
"Aaron's crushing it as the lead and it shows that we all had to step up our game.
"It wouldn't have felt right someone new or bringing in a replacement for Austin. We didn't want people to think that so Of Mice And Men battles on."
Find us on Instagram at BBCNewsbeat and follow us on Snapchat, search for bbc_newsbeat