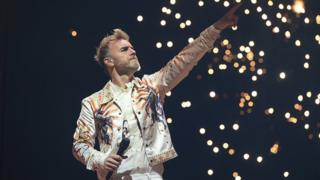 Drivers have been warned about possible congestion in Swansea ahead of a Take That concert.
About 32,000 people will head to the pop group's show at the Liberty Stadium on Wednesday, with the event gates opening from 16:00 BST.
Swansea council warned motorists the roads in the immediate area would be "very busy".
From 15:00, Brunel Way will be closed between its junction with Normandy Road and the A4217.
The A4067 opposite the stadium will be closed from 21:00 until about an hour after the concert finishes, although access to Neath Road for taxis and buses will be unaffected.
About 40 fans had already joined the queue outside the stadium by midday on Wednesday.
Swansea said drivers could expect "slow-moving traffic" on the dual carriageway opposite the stadium in the build-up to the show.
Stuart Davies, head of highways and transportation at the council, said Swansea was determined to ensure it went as "smoothly as possible" and a "comprehensive travel plan" was in place.
"But we're also mindful that many motorists won't be heading to the concert, so we'd like to forewarn them about congestion in the area of the stadium, and on nearby alternative routes, in the late afternoon and evening of the event.
"Motorists should bear this in mind when making or planning journeys at this time."